Many homeowners seem to put all their efforts into beautifying the indoor section of their homes and not give a second thought to the aesthetics of their properties. It shouldn't be that way. Aside from the visual appeal as a motivation, lighting up your garden or compound is also practical. You could be home after a long day and wouldn't want to hit your foot or car on something on the pathway, a scenario that can be avoided by executing certain landscape lighting ideas.
It's time to beautify your property with ideas of functional and aesthetic garden lighting. Wouldn't looking forward to dusk when your outdoor space comes to life be beautiful? We're sure you'll like to make your home the center of attraction in your neighborhood. This can be achieved with exterior lighting. However, there's a little problem with that.
There are so many backyard lighting ideas that choosing one from the other can be a hassle. For this reason, we've compiled a list of good outdoor lighting ideas for your property that can take the beauty of your outdoor living space to another level. Let's dive in.
Factors to Consider Before Installing Outdoor Lighting
Before you go out to buy lighting fixtures for your outdoor spaces, you should consider some things. They include;
Local Building Codes
It's important to contact the building department in your area before installing light fixtures to know the codes that determine the type or level of lighting that should be on properties. Once you know the lighting fixtures to get, you've considerably slimmed down your options.
Purpose of the Lighting Project
What you want to achieve will determine the type of light fixtures to purchase and install, as these lights serve different purposes. For instance, you may want to illuminate your outdoor spaces for safety or beautification purposes. Interestingly, some lights serve both purposes. The pathway light, for instance, ticks the boxes of aesthetics and practicality.
Areas You Want to Illuminate
The parts of your compound that integrate lighting will determine the kind of lighting to purchase and install. If you want to illuminate your pool, go for pool lights. If you want to illuminate your wall, go for wall sconces. There are garden lights, porch lighting, path lights, patio lanterns, etc.
Garden Lighting Ideas That We Recommend
Fence-Mounted Lighting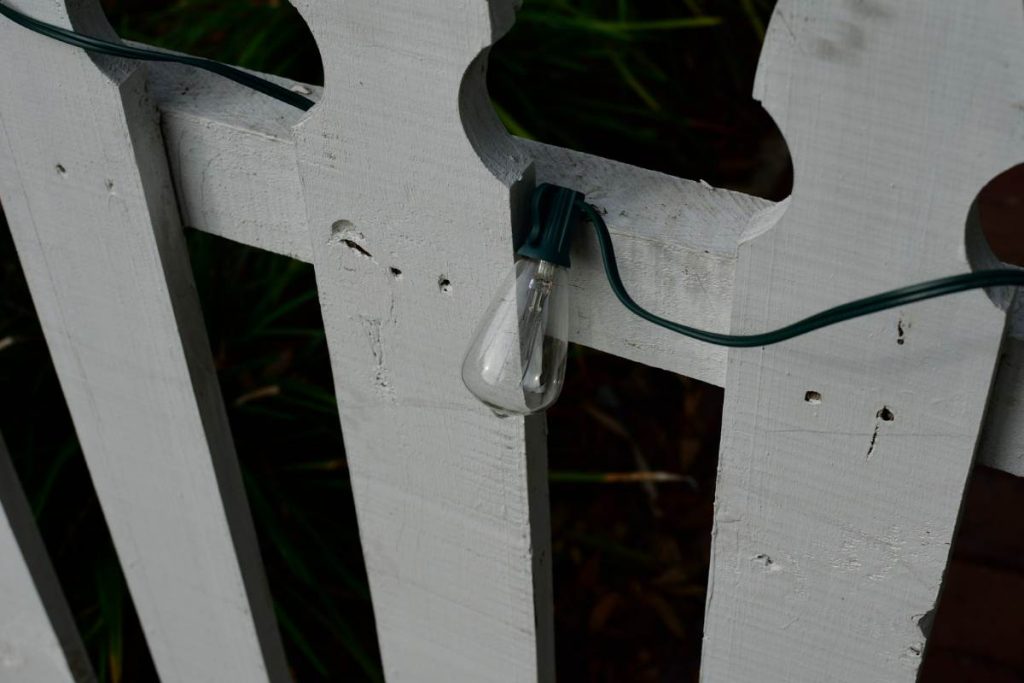 This is one of the best outdoor lights for your property. If your home has a fence, you should highlight it with fence lighting to accentuate the boundary of your property at dusk. This light also beautifies your fence and serves as security lighting against trespassers.
We recommend using spotlights for the fence because they're installed at even spacing close to the top of the perimeter and provide downward illumination. The number of spotlights to purchase and install depends on the size of the fence. When the lights have been installed and powered on, they will light up the entire fence.
String Lights
There are several outdoor lighting ideas that you can execute with these rope-like lights. It's one of those lights that can be used inside and outside the house. It's also commonly used for festive decorations. With outdoor string lights, you can execute layered lighting at the ceiling of your pergola. You just have to hang the string the lights from one end to the other. You can do it horizontally or diagonally, depending on your preference.
Alternatively, you can use string lights to form a light canopy for your outdoor seating space in the absence of a gazebo or pergola on your property. You can achieve this with either separate string lights or by forming a net with a single string light. To achieve the canopy effect, these hanging lights have to be very close to each other and even linked together.
Recessed Lights
These lights are path lights, but they're best suited for wooden or stone pathways. As their name implies, these lights don't stand out because they're not installed on the path but in it. They're installed into the walkways to provide subtle illumination, which is enough to highlight the path you're walking on and give an ambient glow at the same time.
Pendant Lights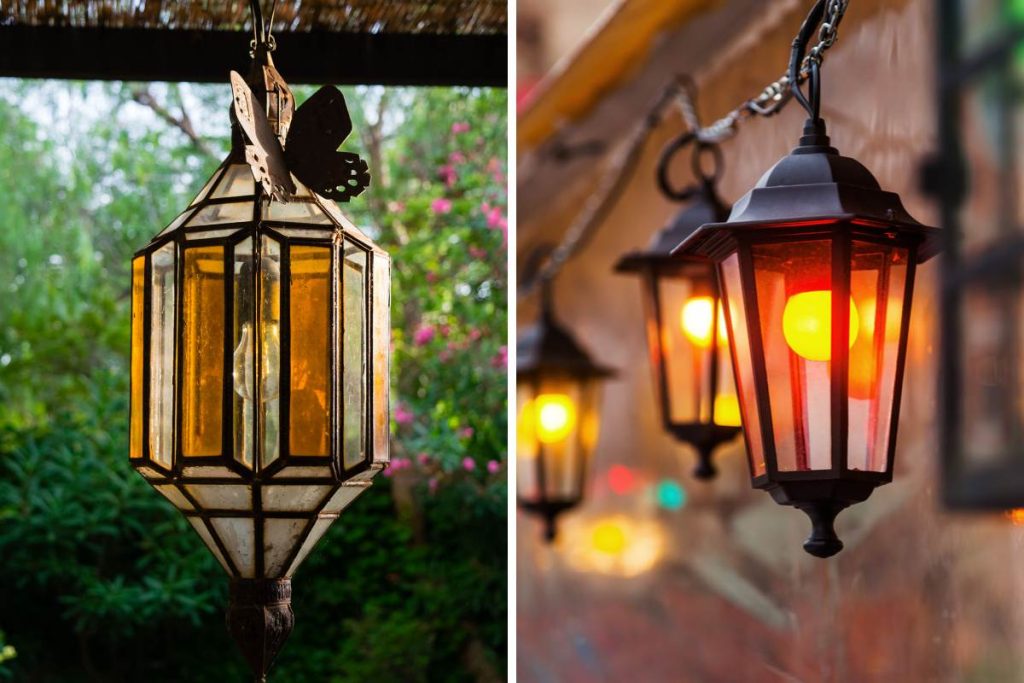 This light is best used as a focal point over an outdoor seating area. Hanging pendants provide lighting and also serves as outdoor decor because it looks like a miniature chandelier. Like string lighting, this hanging light can be used indoors as well.
Pathway Lighting
Unlike recessed lighting, this light was designed to stand out on the pathways. They're not ambient lights; they're bright lights that provide illumination. Although they improve the aesthetics of your outdoor space, their main function is safety illumination – lighting up the path to prevent you from tripping over or driving your car off the path to the garden bed.
Landscape Lighting
This exterior lighting idea is designed to highlight the perimeter of the property, so it's usually installed around the fence. In a way, it's also fence lighting because the focal points of these LED lights are the fence and the garden bed. No one wants their garden landscape to go unnoticed at night, especially if they went to the trouble to make it visually appealing.
Outdoor Lanterns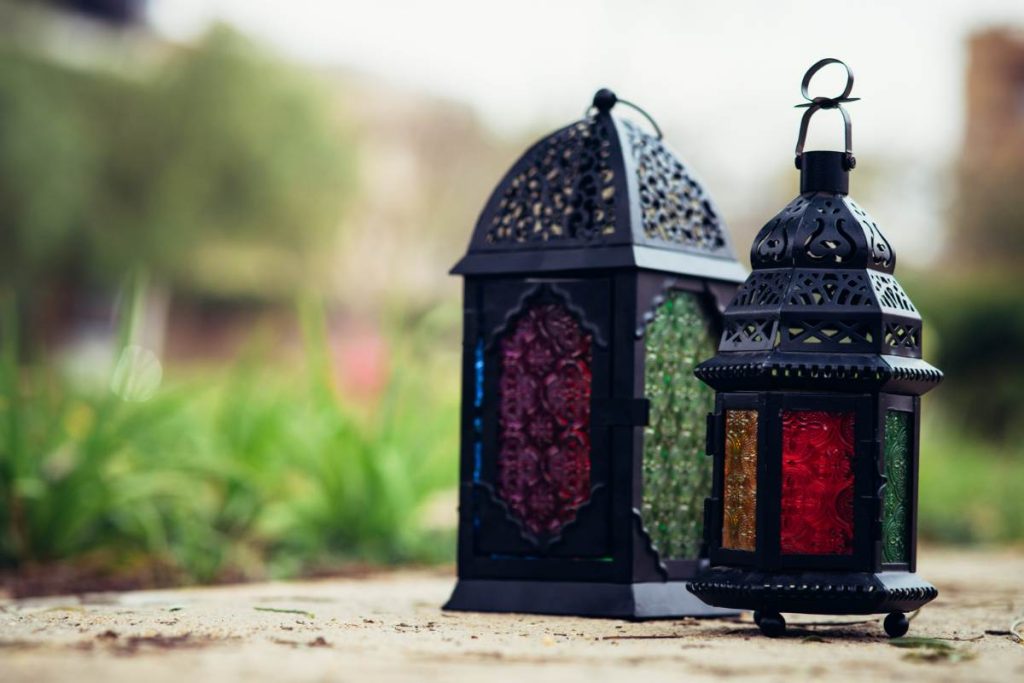 These lights can be used indoors and outdoors. They include paper lanterns, patio lanterns, and rattan lanterns. The latter, which are globe lights, are more decorative than functional. They emit a soft light that creates a serene ambiance on your property. They comprise soft white lights covered with a globular basket.
These lights are great choices if you want to add a rustic appeal to your property. If you're opting for rattan lanterns, we recommend going for the resin-coated material because it's more resilient and durable when exposed to weather elements such as rain or snow.
Paper lanterns are also a decorative light source that serves as a good alternative to strip lighting. They are mostly used for special occasions. Unlike other lights, paper lanterns shouldn't be left to hang above the areas they illuminate after the event because they aren't weather-proof. Remember, it's paper. Use paper lanterns of different dimensions to get the best of this backyard lighting.
Patio lanterns are the most modern-looking and sophisticated of the three. Though they're called patio lanterns, they're also used to light up the pool area and the gazebo or pergola. This ambient light complements the traditional pool lights and the light in your outdoor seating areas to create a breathtaking effect.
An alternative to these lanterns is solar-powered lanterns. These solar-powered lights are more energy-efficient than the rest, and it's powered by the sun to provide illumination for any sustainable home.
Porch Lights
What better way to make your house seem homely than to install porch lighting? These lighthouse designs illuminate the porch or deck of your home in a welcoming way. Aside from the fact that it's practical lighting, it makes your immediate outdoor space much more fun to use during the evenings. The best fixture for the porch lighting is recessed lights embedded in the ceiling of the porch; this will provide intimate lighting for that area and increase its appeal.
Floor Lamps
Floor lamps are best suited for outdoor rooms such as your gazebo or relaxation area. As ambient lighting, it provides illumination for specific areas, highlighting them in the process. These lamps can also be used by the pool and on the porch as well. It's a type of feature lighting that adds a statement wherever it's installed.
Outdoor Chandelier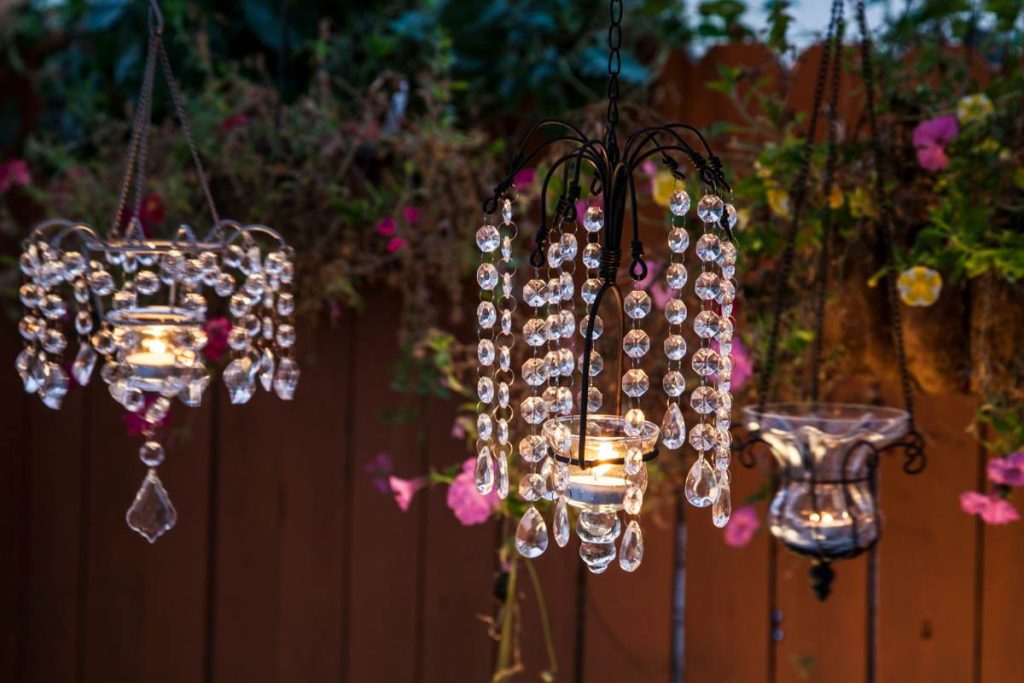 This is another remarkable example of feature or statement lighting. The outdoor chandelier adds a measure of grandness or prominence to any area it lights up because of its unique and regal looks. If you happen to have an outdoor dining room or dining table on your porch, this light will be one of the most suitable choices of illumination for that area.
One amazing thing about this outdoor lighting is that it can be used indoors, but indoor chandeliers can't be used outside. Unlike their outdoor counterparts, they're not made of materials that are resistant to corrosion or any other side effect of exposure to weather elements. This hanging light is installed with a Q-hook.
Festoon Lights
Just like paper lanterns and string lighting, festoon lights are commonly used for festive occasions. They're also called party lights. These hanging lights have big bulbs and take the form of a garland. They're installed in a very similar way to string lights. These lights have versatile applications, which include your garden sculpture, evening garden, gazebo, or patio. They come in warm white and multicolored versions.
Wall Sconces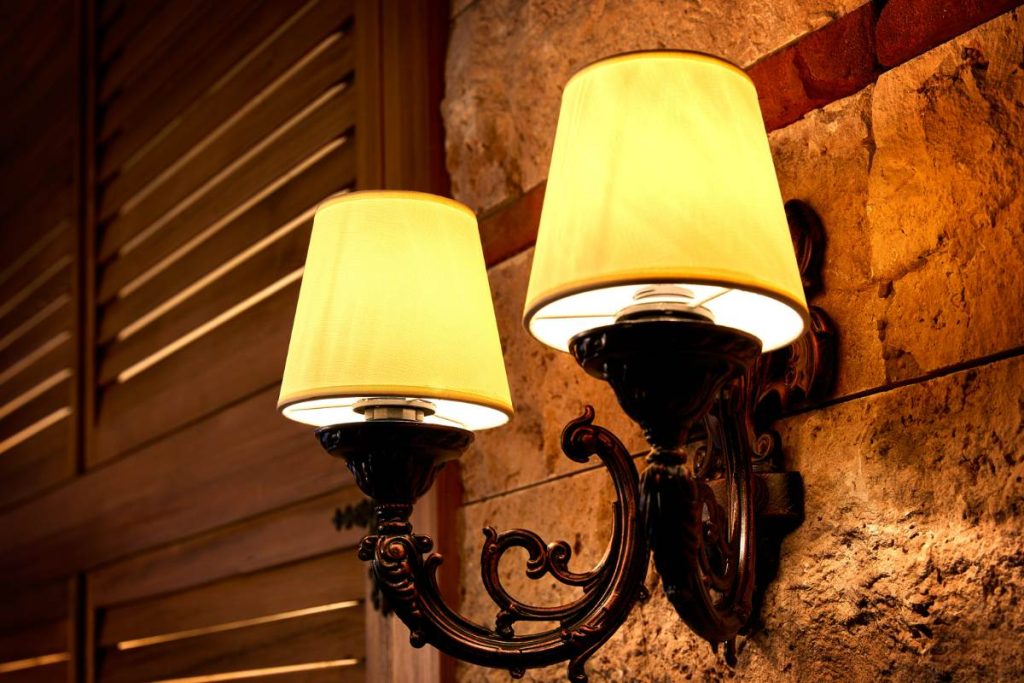 The history of the sconce as a lighting scheme began with oil lamps or candlelights. However, they've evolved into modern light bulbs. Wall sconces must be among the most elegant-looking light fixtures because they add an undeniable touch of class to your walls. This light is installed on your wall surface into a junction box and is regulated by a wall switch. These wall lights are mostly aesthetic but provide enough light to illuminate your outdoor walls.
Roof Eaves
This form of outdoor lighting is more suited for buildings with architectural designs that complement it. It looks like a wall sconce but serves a different function. As the name implies, it provides illumination for the underside of your roof. It's installed on the wall like a sconce. However, while the latter is installed in the middle section, roof eaves are installed in the upper section, which is closer to the roof. Though they're usually installed on the walls with the front door, they can also be used on the walls at the side.
Candlelight
This old classic lighting has stood the test of time. There are candlelights for indoor use and outdoor use. The outdoor candlelights are designed to be weather-proof; they come in a protective cover. However, this is for live flames. There's a more convenient option which is the electric candle. The light looks very similar to a live candle, but the flame isn't a real fire. These battery-operated devices are safer to use because there's no risk of a fire hazard, and there will be no melted wax.
This garden lighting idea is one of the most affordable ones on the list. So, this is your best bet if you want to illuminate your outdoor space on a budget. It's also ideal because you can use it virtually anywhere, even on flower beds or garden features. Just like rattan lanterns, they add some rustic appeal.
Fountain Lighting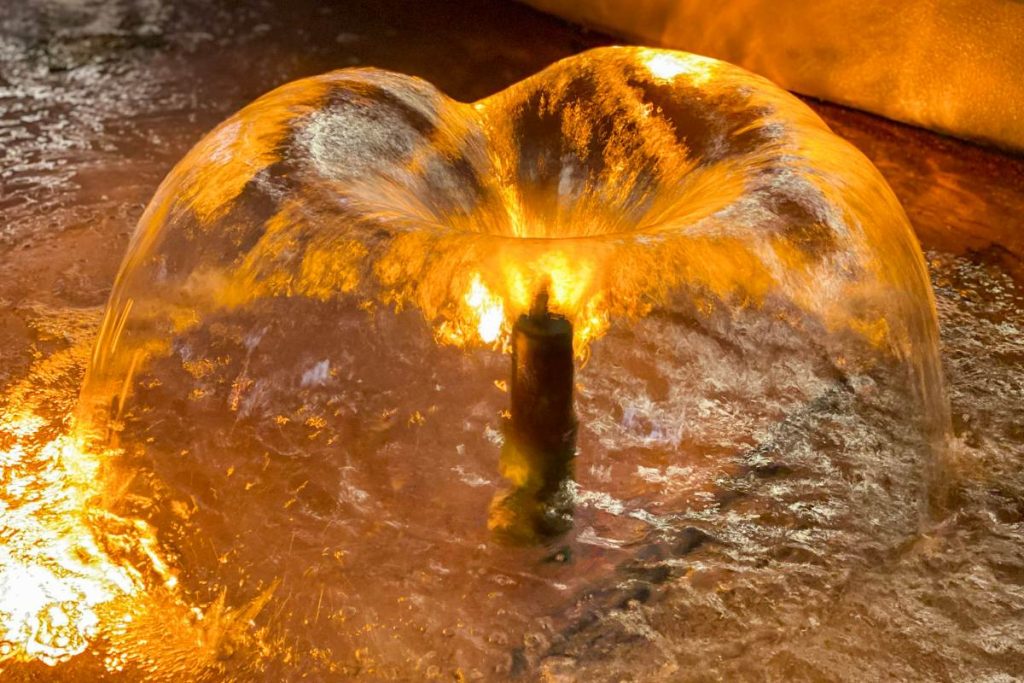 This lighting idea is a recommendation for homeowners who enjoy the luxury of having a water fountain on their property. This structure shouldn't go unnoticed at night. When your fountain is lit up at dusk, it's arguably the most beautiful thing in your compound. The combined effect of glowing illumination and flowing water gives a view that few can resist. Imagine driving down the pathway and being welcomed by a lit-up water fountain; that's one hell of a welcome.
Fire Pit
This can come in two ways – a live fire pit that's fed wood, papers, or other combustible materials to keep the flames alive and illuminate your outdoor relaxation space or an electric fire pit that just needs a power source.
Flood Lights
This outdoor lighting provides a much brighter light than other mentions on this list. It's mostly used as a security light, emitting a strong beam of light flooding a wide area. Conventional flood lighting may not be ideal because of the high operating costs it incurs and the energy it consumes. Getting the solar-powered version is much better. This solar-powered lighting will save you money in operating costs and consume less energy since they derive their juice from the solar center (the sun).
Potted Trees
Illuminated potted trees rank high on the list. This lighting idea involves trees as the focal point. They're illuminated with stake lights which shine their light upwards, accentuating the trees in a warm glow. The visual effect is magical.
Front Door Lighting
Your front door, which is the entrance of your home, is one of the places to illuminate for practical reasons; the visual appeal is just a bonus. Just like porch lighting, it gives your home a welcoming aura. We recommend using wall lights on either side of your front door, nothing more. You wouldn't want to overwhelm that small space with excess lighting, so keep it minimal.